Oxygen O2 SL gas sensor with tags, 0-25% vol
Product Code: 2112B4530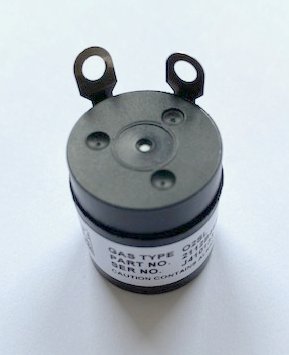 Quick Overview
O2 SL gas sensor with tags, 0-25% vol. O2
Details
Oxygen O2 SL gas sensor with tags
Measuring Range: 0 – 25% vol. O2
Size: see datasheet for dimensions
Part no: 2112B4530
Shock resistant, leak free design ensures a lifetime of 100% reliability. Available as a single sensor, in combination with a 4-20mA transmitter or as a complete housed solution.
SL Oxygen sensors from Sixth Sense overcome the problems associated with standard metal can sensors. They are designed to be directly interchangeable with current sensors incorporated into fixed and portable gas detectors.
Typical applications include the measurement of Oxygen deficiency in confined spaces such as tunnels, mines or chemical plant or for the analysis of combustion gases in flues and chimney stacks.
The SL's shock resistant, leak free design ensures lifetime reliability. High sensor to sensor repeatability and tolerance to temperature and pressure transients also contribute to highly reliable performance. All have lifetimes of 18 months.
Note: Please refer to individual datasheet for detailed information on this sensor and its dimensions.
Available options:
– O2 SL 4-20mA transmitter including sensor and installation kit, 0-25% vol O2 (part no. 2112B4532)
– O2 gas measuring system – O2 SL sensor, 4-20mA transmitter and installation kit in aluminium housing, 0-25% vol O2 (part no. 2112B4533)