SENSEGAS Measuring System for 4 Series and Micro Size Gas Sensors
Product Code: 2112B24420B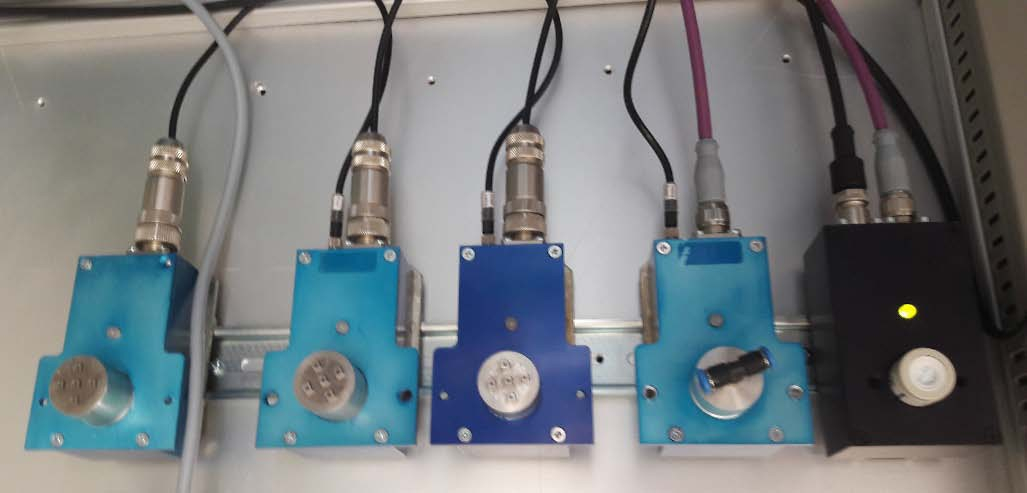 Quick Overview
SENSEGAS Measuring System suitable for all 4 Series and Micro size gas sensors
Details
SENSEGAS Measuring System suitable for 4 Series Size and Micro gas sensor ranges
Gases available: Ammonia NH3, Carbon Monoxide CO, Chlorine Cl2, Chlorine Dioxide ClO2, Ethylene Oxide ETO, Hydrogen H2, Hydrogen Chloride HCl, Hydrogen Cyanide HCN, Hydrogen Sulphide H2S, Methyl Mercaptan CH3SH, Nitric Oxide NO, Nitrogen Dioxide NO2, Oxygen O2, Ozone O3, Phosphine PH3, Sulphur Dioxide SO2. Other gases on request.
Size: Suitable for 4 SERIES or MICRO version sensors (sensor to be purchased separately and system will be calibrated to the specific sensor chosen).
Part no: 2112B24420
Power supply: 10.0 – 24.0Vdc.
Output: CAN with either (a) 4-20mA output or (b) 1-4Vdc output. Cabling accessories also available.
The Euro-Gas SenseGas Measuring System offers a unique advantage – the user can choose from one of a vast range of gas sensors and calibration combinations. The system is suitable for use in combination with all Euro-Gas sensors in 4 series and Micro sizes. The system will be calibrated with the sensor type and gas range chosen and supplied as a precalibrated housed detector for fixed mounting, with calibration certificate.
The measuring system offers measurement of standard gas types including Carbon Monoxide CO, Hydrogen H2, Hydrogen Sulphide H2S, Nitrogen Dioxide NO2 or Oxygen O2. Other toxic and exotic gases are available, including Sulphur Dioxide SO2, Nitric Oxide NO, Ammonia NH3 and Chlorine Dioxide ClO2. The system also provides onboard temperature compensation and reports any faults.
The 4 series standard small size sensors, suitable for use with this detector, are a unique design of high performance electrochemical gas sensor. Whilst, the suitable Micro sensors utilise solid electrolyte and offers a number of technological benefits:
Solid electrolyte is easier to handle with no housing or reservoir required. This means that the sensor can be provided in different packages, providing cost advantages for instrumentation and volume production when required.

The reading is fast with immediate adjustment to humidity and quick adjustment to temperature.

Production is fully automated ensuring quality and stability.

Lifetime is longer than many standard electrochemical sensors.

Response time is fast.
Note: Please refer to individual datasheet for detailed information on this product and its dimensions.