Particle & Dust PM Monitoring System
Product Code: Particle & Dust Monitor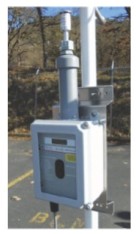 Quick Overview
Industrial air quality sensing device for accurate measurements of particle and dust concentration.
Details
The PM Monitor is an industrial air quality sensing device designed to provide accurate measurements of particle concentration in both indoor and outdoor environments for PM10, PM2.5, PM1 or TSP.
The monitor measures particulate concentration using a highly sensitive, forward scatter laser nephelometer, having a measurement range of 0 to 100mg/cubic meters or 0 to 100,000ug/cubic meters.
The monitor can be wall mounted or installed on a vertical mast up to 3 inches in diameter. The monitor is supplied with a 10ft cable and connector for power (10 – 40 Vdc) and signal output.
Optional sharp-cut cyclones are used to set the measurement level. As supplied, it provides particulate monitoring for TSP. With the addition of the sharp-cut cyclone, it can be set for particulate smaller than PM10 or smaller than PM2.5, or PM1. The accuracy of the instrument is +/-5% based on a traceable PSL 0.6 micron reference standard.
The PM monitor is utilised for applications including: hotels and public venues; rail and roadside monitoring; schools and playgrounds; underground facilities; solar power installations; wind energy installations; and farms and ranches.
Note: Please refer to individual datasheet for detailed information on this monitor and its dimensions.