P-50 Ultra – Gas Hazard Kit for Toxic and Hazardous Gas Detection
Product Code: P-50 Ultra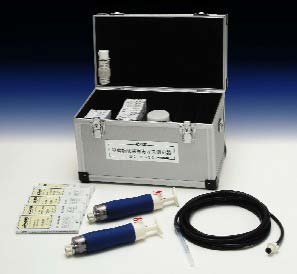 Quick Overview
A comprehensive kit for rescue and safety personnel to establish toxic/hazardous gases and levels quickly and easily.
Add to enquiry
Details
This is a comprehensive kit for emergency scenes, where rescue and safety personnel do not know if toxic or hazardous gases are present and/or need to measure exact gas levels quickly and easily.
The kit includes:
Kitagawa AP20 Detection Pump;

5m rubber extension hose;

tip cutter;

container for used detector tips;

aluminium carrying case;

instruction manual;

gas qualitative flow chart (organic gases);

gas qualitative flow chart (inorganic gases);

and 20 boxes of Kitagawa detector tubes as follows:

For Inorganic Gases: Ammonia (105SB), Hydrogen sulphide (120SB), Carbon monoxide (106SA), Hydrogen cyanide (112SB), Carbon disulphide (141SA), Carbon dioxide (126SA), Chlorine (109SB), Sulphur dioxide (103SD), Hydrogen chloride (173SB), Hydrogen selenide (167S), Phosgene (146S), Hydrogen fluoride (156S), Nitro-oxide compound (174A), Nitric acid vapour (233S).

For Organic gases: Toluene (124SA), Acetylene (101S), Methyl alcohol (119SA), Ethylene oxide (122SA), Methyl amine (227S), Chloroform (152S).