Oxygen O2 OC-6B galvanic gas sensor
Product Code: OC-6B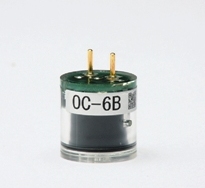 Quick Overview
KOMYO KITAGAWA OC-6B galvanic gas sensor for Oxygen O2, CO2 resistant, 0-25% vol. O2
Add to enquiry
Details
KOMYO KITAGAWA OC-6B galvanic gas sensor for Oxygen O2, CO2 resistant
Measuring range: 0-25% vol. O2
Part no: OC-6B
Method: Diffusion type
This Oxygen sensor offers no deterioration by Carbon Dioxide CO2. The sensor provides linear output for high accuracy detection and high performance with long-term stability.
Available for new gas detection applications and for sensor replacement in Komyo Kitagawa portable monitors and fixed gas detection systems.
Komyo Kitagawa gas detection systems utilising the OC-6B gas sensor:
– Portable gas detection monitoring model numbers: OPA-5000E/OMA-600E/OM-600E/MMP-10/MMP-12/MD-611E/MD-612E/MD-620E/MD-801/MD-811/MD-940
– Fixed gas detection systems: suitable for Komyo fixed systems. Please contact us with details of your fixed system/s for assistance.