MND-2 Nitrogen Dioxide MediceL gas sensor, 0-50ppm NO2
Product Code: 2112BAG7F4-400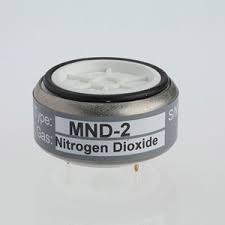 Quick Overview
MND-2 Nitrogen Dioxide NO2 MediceL gas sensor, 0-50ppm NO2
Details
MND-2 Nitrogen Dioxide NO2 gas sensor
Measuring Range:  0-50ppm NO2. Maximum Overload: 200ppm NO2

Size: 4 electrode medical sensor. 7 series size. Please see datasheet.

Part no. 2112BAG7F4-400
Please download the Sensor Product Listing to view latest NO2 options available.
Note: Graphics of these sensors are an example only and sensor cap/body colour may vary depending upon gas sensor type ordered or manufacturing modification. Please refer to individual datasheets for detailed information on these sensors and their corresponding dimensions.