Methane CH4 SC-403S semiconductor gas sensor
Product Code: SC-403S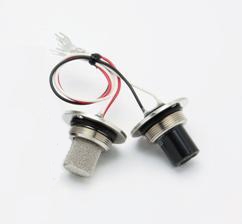 Quick Overview
KOMYO KITAGAWA SC-403S semiconductor gas sensor for Methane CH4, suction/pumped method, 0-2000ppm CH4
Add to enquiry
Details
KOMYO KITAGAWA SC-403S semiconductor gas sensor for Methane CH4 (suction/pumped method)
Standard Measuring range:  0-2000ppm CH4. Maximum Overload: 0-5000ppm CH4
Part no: SC-403S
Method: Suction/pumped type
This suction/pumped type, high sensitivity hot-wire semiconductor gas sensor is for measurement of combustible gases.
The sensor offers high sensitivity against lower concentrations and so is ideal for early gas leak detection. It offers humidity compensation with good zero and long-term stability. It is utilised for suction/pumped type gas detectors.
Excellent Methane selectivity
High sensitivity against lower concentration, so suitable for TLV alarm setting and early leak detection
Small zero drift, unaffected from humidity
Good long-term stability
Reliable sensor for Methane leak detection
Available for new gas detection applications and for sensor replacement in Komyo Kitagawa portable monitors and fixed gas detection systems.
Komyo Kitagawa gas detection systems utilising the SC-403S gas sensor:
– Fixed gas detection systems: suitable for Komyo fixed systems.  Please contact us with details of your fixed system/s for assistance.