Gasman Personal Gas Monitor
Product Code: GASMAN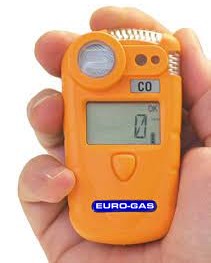 Quick Overview
The Gasman Personal Gas Monitor from Euro-Gas is a small, light, cost-effective design for applications where protection against a single toxic or flammable gas or vapour is required
Details
The Gasman Personal Gas Monitor from Euro-Gas is a small, light, cost-effective design for applications where protection against a single toxic or flammable gas or vapour is required. 
Gasman is available in a range of models to monitor different gases including toxic, flammable and oxygen. Highly visible and audible alarms warn the wearer quickly of dangerous gas levels. Data is also recorded by the monitor for subsequent collection via a Windows compatible PC interface. 
As Gasman has been designed to be Intrinsically Safe, it can be used in potentially explosive situations with absolute confidence. Applications for Gasman include workers in gas and water utilities; foundrymen; oil rig and petrochemical workers and anyone who has to enter confined spaces. In all these situations, the Gasman Personal Gas Monitor can be relied upon to protect personnel.