ATEx Gas Measuring Systems for flammables/ hydrocarbons, CO & O2
Product Code: 2112B42021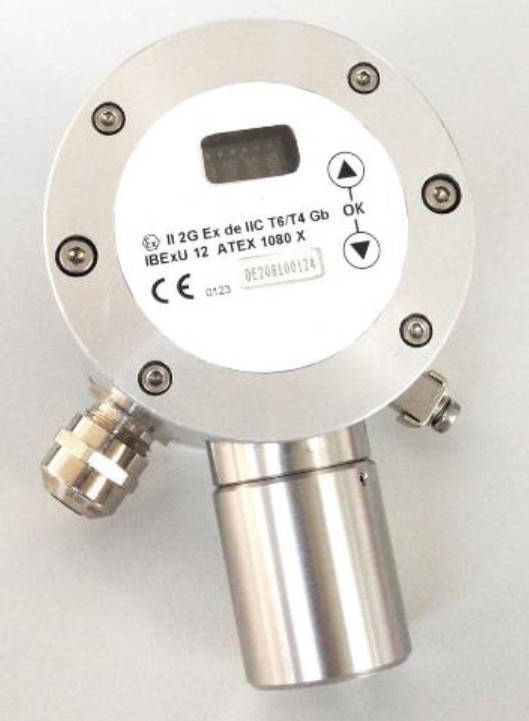 Quick Overview
ATEx approved Gas Measuring System for 0-100% LEL flammables/ hydrocarbons, Carbon Monoxide & Oxygen
Add to enquiry
Details
ATEx Approved Gas Measuring Systems with 4–20mA output – suitable for flammable gases / hydrocarbons, Carbon Monoxide CO or Oxygen O2.
Flammable gases / hydrocarbons measuring Range: 0-100% LEL
Available hydrocarbon calibrations: Hydrogen H2, Methane CH4, Propane C3H8, N-Butane C4H10, LPG, Ethanol C3H6O, Methanol CH3OH, i-Propanol C3H8O, Xylol C8H10, n-Heptane C7H16, Acetylene C2H2
Other gases available: 0-300ppm Carbon Monoxide CO, 0-25% Oxygen O2
Part no: 2112B42021
Power supply: 24V d.c.  Output: 4-20mA
The ATEx Gas Measuring Systems determines the concentration of the selected calibrated gas in the air at ambient temperatures of -40° C to +60° C. Housing is ATEx approved for operation in zone 1 and zone 2 hazardous areas, and suitable for wall mounting.
Basic processing and output of the measured values (linear output, 4-20 mA) are integrated into the measuring system. Evaluation and further processing of the measured values occur in downstream devices selected by the user, for example, ventilation systems, limit monitors, display or programmable logic controllers. 
Available options:
– Test/calibration gas cap (part no. 2112B1010)
– Gas detection controller (part nos. 2112BGWZ-S2/-S4/-S6)
– MODBUS card (part nos. 2112B1050/2112B1055)