Carbon Monoxide CO SureCell CO (M) 4-20 mA Transmitter, 0-1000ppm
Product Code: 2112B1020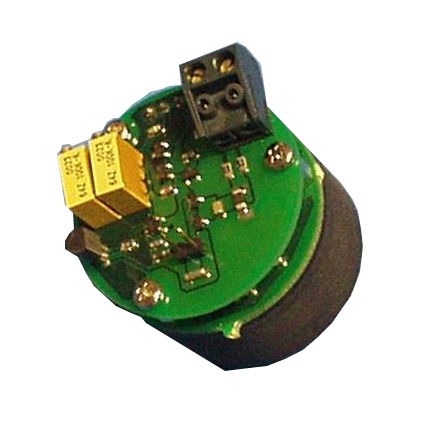 Quick Overview
Carbon Monoxide CO SureCell CO (M) 4-20 mA transmitter including sensor ideal for industrial applications, 0-1000ppm CO. Optional: 0-300ppm CO
Details
Carbon Monoxide CO SureCell CO (M) 4-20 mA transmitter including SureCell sensor, ideal for industrial applications
Measuring Ranges: Standard: 0-1000ppm CO. Optional: 0-300ppm CO
Size: 4 series sensor included
Part no: 2112B1020
Power supply: 24Vdc. Output: 4-20mA
The 4-20mA transmitter offers a fast and accurate solution for the measurement of CO and is ideal for industrial applications. This solution includes the SureCell CO(M) gas sensor; the next generation of OEM gas sensors from Sixth Sense and available as single sensors, in combination with this 4-20mA transmitter or as a complete housed solution.
SureCell is a revolutionary design of high performance electrochemical gas sensor. The unique features of SureCell and the potential advances for end product performance, make SureCell a truly cost-effective solution for gas detection equipment manufacturers and installers.
Based on over 25 years of R&D, SureCell embodies a number of technological advances to offer unprecedented performance in even the harshest environmental conditions:
The unique internal construction of SureCell ensures indefinite operation in extreme temperatures and humidity.

Even during extended periods of exposure to high humidity, there is no leakage potential or signal loss.

Further design features provide reduced cross-sensitivity and increased stability.

Improvements in mechanical design ensure SureCell is high quality, reliable and dependable.

Advanced production processes, with unique fully automated production, result in a sensor that is both cost effective and available in high volumes.
Note: Please refer to individual datasheet for detailed information on this item.
Available options:
– SureCell CO(M) sensor, 0-1000ppm CO (part no. 2112B2003)
– SureCell transmitter installation kit (part no. 2112B1022)
– Gas Measuring System – SureCell sensor, 4-20 mA transmitter and installation kit in aluminium housing, 0-1000ppm CO (Optional: 0-300ppm) (part no. 2112B1023)
– Test/calibration gas cap (part no. 2112B1010)