Carbon Dioxide CO2 Mobile Indoor Air Quality Monitor, Traffic Light Option, 0-3000ppm
Product Code: 2112B8000-TLM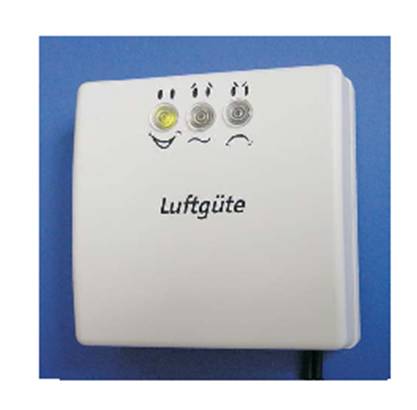 Quick Overview
'Luftgüte' mobile indoor air quality infrared CO2 monitor with traffic light option including power supply unit, 0-3000ppm CO2
Add to enquiry
Details
'Luftgüte' mobile indoor air quality infrared CO2 monitor with traffic light option including power supply unit 100-250V a.c. 50Hz
Measuring Range: 0-3000ppm CO2
Sensor sizes: Standard C3
Part no: 2112B8000-TLM
Power supply: Standard plug power supply via mains adaptor Output: Traffic light option
Available for general low range CO2 monitoring and indoor air quality, the monitor includes a standard plug and so is a mobile unit that can be moved within or between rooms.
There is a simple green/yellow/red traffic light system with sad and happy faces illustrated on the front of the housing, which simply shows if additional ventilation is needed in the room. This monitor is popular for schools and offices, to determine when windows should be opened to increase air flow and improve concentration!
The monitor incorporates the C3 infrared sensor, which offers long-term stability in a compact, cost-effective package. The innovative material and construction of a double beam infrared measuring system ensures Carbon Dioxide is detected quickly and precisely with T90 response time of 30 seconds. A new digital algorithm evaluates and processes the measured signals, offering long-term stability in a lightweight, compact and cost-effective package.
The infrared measuring system detects the absolute Carbon Dioxide content of ambient air and monitors itself constantly, signalling if there is a malfunction of its hardware or software.
Available options:
– 'Luftgüte' two relay indoor air quality infrared CO2 monitor with traffic light option (part no. 2112B8000-TLR)
– Indoor air quality infrared CO2 monitor. 4-20mA or 0.1-10V transmitter, 0-3000ppm (part no. 2112B8000)
– C3 standard infrared CO2 sensor with 4-20mA or 0.1-10V transmitter, 0-3000ppm (Optional: 0-4000ppm, 0-5000ppm, 0-10,000ppm, 0-20,000ppm, 0-30,000ppm) (part no. 2112B7000) – without housing
– C3 standard infrared CO2 sensor with 4-20mA or 0.1-10V transmitter, 0-5% volume (part no. 2112B7050) – without housing
– CO2 gas measuring system – heavy duty C3 infrared CO2 sensor with 4-20mA output transmitter in aluminium housing (0.1-10V output available on request), 0 – 3000ppm (Optional: 0-4000ppm, 0-5000ppm, 0-10,000ppm, 0-20,000ppm, 0-30,000ppm, 0-5% (part no. 2112B9000/2112B9050)
– Test and calibration software for all CO2 infrared C3 sensors including data cable 2.5 metres for test and calibration software (part no. 2112B9075)
– Test Gas Cap and installation ring with screws suitable for CO2 infrared C3 sensors (part no. 2112B1011)
– For alternative ranges of infrared CO2 sensors, please see our C1/C2 miniature sensors or C4 4&7 series sized gas detection sensors