Infrared CO2 Carbon Dioxide GasSense NDIR sensor with integrated digital & analogue output transmitter
Product Code: 2112B5022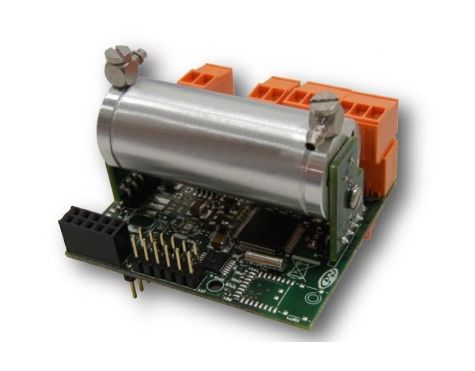 Quick Overview
Infrared CO2 Carbon Dioxide GasSense NDIR high specification gas sensor with integrated digital & analogue output transmitter. Range options: 0-1000ppm, 0-2000ppm, 0-5000ppm, 0-1%, 0-5%, 0-10%, 0-25% or 0-100% volume CO2.
Add to enquiry
Details
Infrared high specification CO2 Carbon Dioxide GasSense NDIR sensor with integrated digital & analogue output transmitter.
Power supply: 9.0 – 24.0V d.c. 
Measuring Range options: 0-1000ppm, 0-2000ppm, 0-5000ppm, 0-1% vol, 0-5% vol, 0-10% vol, 0-25% vol or 0-100% volume CO2.
Sensor sizes: depending on sensor gas and model
Part no: 2112B5022
Integrated digital and analogue (voltage) standard output

Incorporated signal linearisation and temperature compensation suited for manufacturers without any specialist knowledge in IR technology

Fast response

Robust construction with option of corrosion-proof sensor cell and housing, for applications including biogas.

Wide operating temperature and humidity range

Low power consumption

Wide range of measurement options.

Smart sensor suitable for wireless applications.
The GasSense NDIR gas sensor, with integrated transmitter, is an innovative measurement module for the detection of CO2, CO, N2O, CH4 or related hydrocarbons. The sensor can be easily integrated as an OEM component into controls, measurement systems and monitoring instruments.
The sensor uses dual channel Non-Dispersive Infrared Detection (NDIR) and detects the net increase or decrease of light that occurs at the wavelength where absorption of the detecting gas takes place. The light intensity is then correlated to gas concentrations.
To ensure a reliable and stable measurement, the module is temperature compensated. The gas cell has been designed using non-sequential ray tracing techniques in order to ensure the best compromise between accuracy and sensor dimensions. Additionally, a dedicated rugged gas sensor cell option is available to minimise corrosive effects in harsh industrial environments, like biogas applications. The GasSense electronic board features a native wireless module managed with Ultra Low Power techniques, a fault diagnostics system and a power module suited to manage charging and energy recovery systems. The GasSense sensor can be used with a pneumatic pump or can simply work by natural diffusion mode. 
Available options:
– GasSense accessories available for easy integration – please ask for details.
Alternative CO2 options:
– Infrared CO2 sensors in 4 series sizes with integrated analogue (standard 0.4-2.0V) transmitters (part no. 2112BC4-V and 2112BC4A-V).
– Installation kit and test gas cap for 4 series sizes.
– Other types of CO2 sensors are also available, with digital and analogue outputs – please ask us for details.