C2 Miniature High Speed Low Power Infrared CO2 Gas Transmitter, RS232 Output
Product Code: 2112BC2SPD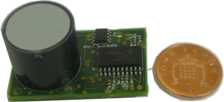 Quick Overview
C2 high speed (20 readings per second) low power (35mW) infrared CO2 Carbon Dioxide sensor with RS232 transmitter, 0-5% volume CO2
Add to enquiry
Details
C2 high speed (20 readings per second) low power (35mW) infrared CO2 Carbon Dioxide sensor with RS232 transmitter
Measuring Ranges: Standard: 0-5% volume CO2. Optional: 0-20% volume CO2; 0-60% volume CO2; 0-100% volume CO2
Size: Miniature
Part no: 2112BC2SPD
Optional temperature and humidity output available.
Our miniature sensors are fast response, low power, solid state, infrared sensors for an extensive range of applications.
The sensors are particularly ideal for portable and battery powered instruments. Measurement of CO2 is high speed, 20 readings per second. High performance LEDs and photodiodes offer low power, fast response, intrinsic safety and sunlight immunity. This sensor technology benefits from being a semiconductor ensuring it is very stable over many years, is resistant to environmental effects, such as humidity and poisoning, and is usable over a wide temperature range, with little environmental impact. For further information on the technology, please see our CO2 Infrared Technology Information.
Analogue and digital electronic interface options provide a temperature compensated and linearised CO2 measurement that can be customised to suit specific customer requirements. This sensor is ideal for applications where CO2 concentrations change rapidly, such as analytical instrumentation and metabolic assessment .
Available options:
– Fitted flow housing adaptor – P/N 2112BC12H